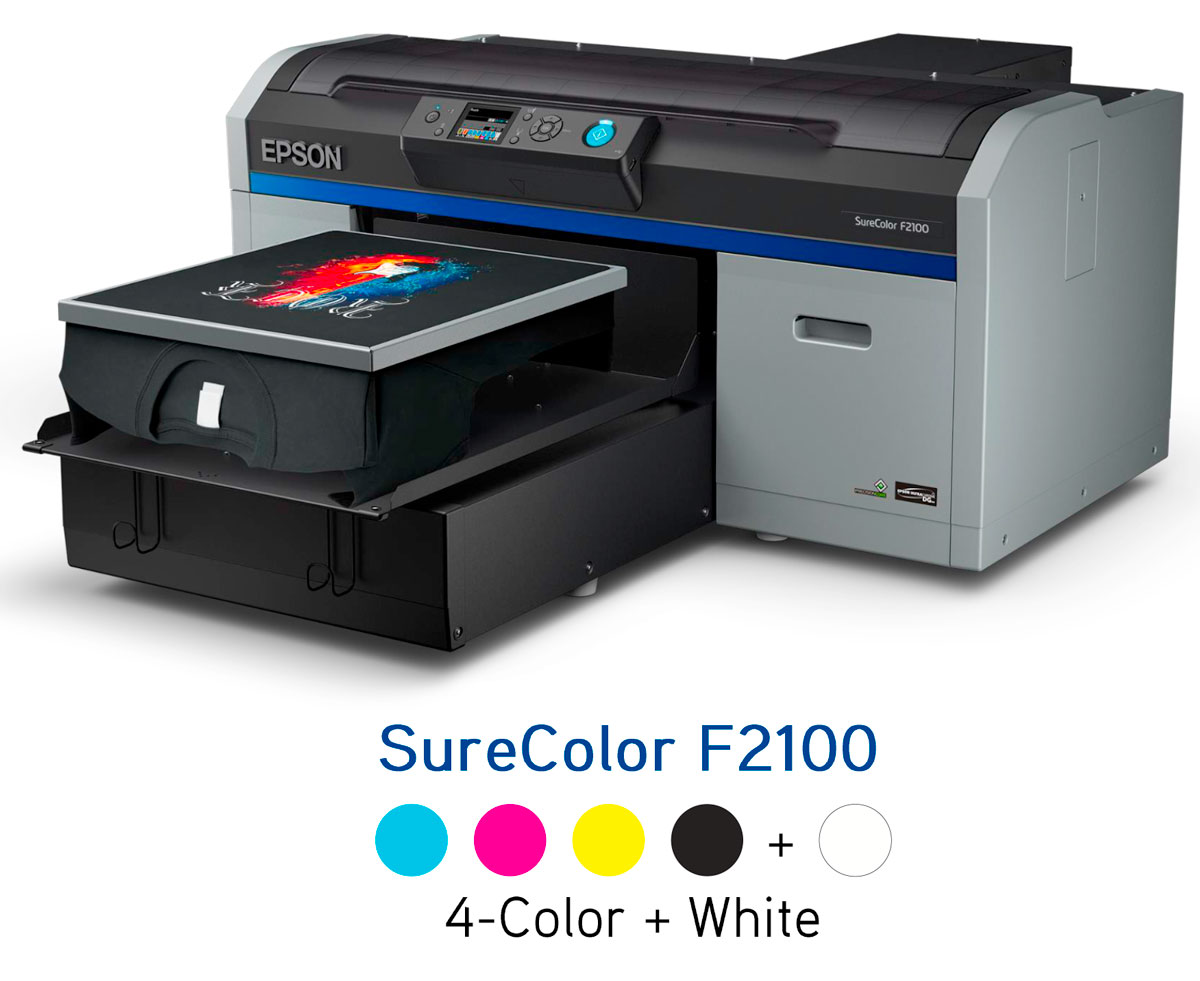 Melco Expands Its Product Offering to Include Epson F2100 DTG Printers & Roland Print/Cut Machines
If you own a screen printing business, or have any interest in embroidery or selling printed t-shirts, then you need to know Melco. Based in the U.S., Melco is known for its high-speed commercial embroidery machines and digitizing software. However, with increasing demand for direct to garment printers and vinyl print/cut machines, it just made sense to expand the product offering to include the SureColor F2100 from Epson, and a selection of vinyl print/cut machines from Roland.
"Embroidery machines, including the EMT16 PLUS, that's still our core product," according to Justin Schierkolk, Marketing Team Leader. "But when you have customers asking about other equipment, including DTG and vinyl cutting, well, we listen to our customers, and we do our best to provide for their equipment needs as much as possible." He added, "We're really excited about the recent launch of the Epson F2100. The process is so simple… no color separations, no screens to burn, no messy solvents or bulk ink… just load your art into Garment Creator, size and position it, and you're ready to print. The process is clean and simple, and helps t-shirt shops meet those smaller orders that would not be profitable using the screen-printing process."
The new SureColor F2100 was recently announced at the ISS Long Beach trade show in January. This machine is a big step forward in direct to garment t-shirt printing. Up to two-times faster print speeds than its predecessor, the F2000, and a new automated maintenance system are just two key features that any serious t-shirt shop can appreciate. The F2100 is purpose-built to produce one-off and small batch t-shirt orders, and it does that job very well. One thing that really makes this machine stand out from the crowd—print quality. Not only is it fast, but the color and resolution are stunning, certain to exceed the expectations of the most discerning customers.
Melco has been a premier Epson reseller since 2014, and with the launch of the new F2100, they are proud to continue building their direct to garment printer business with Epson.
Where Melco has been in the direct to garment printing market for many years, they are new to the vinyl cutting market. Though new to this arena, they are very confident in developing a strong partnership with Roland. "They care about their customers, and they are super easy to work with," says John LeDrew, Melco's Digital Production Specialist. "Roland has an outstanding selection of equipment to meet the needs of any shop, large or small, and a solid reputation for great customer service. Melco is proud to be a reseller for several of their top-selling models, from basic vinyl cutting machines like the GS-24, to the high-end, larger print-cut machines, like the Roland TrueVIS VG-640."
These machines are designed for creating anything from a basic, one-color decal to the most striking prints used on vehicle wraps and other wide-format applications. However, in the apparel decoration world, heat transfer is a popular and easy way to apply graphics to t-shirts, tote bags, hats, hoodies, and a plethora of other items. According to Mike Doe, Applications Team Leader at Melco, "Things get really cool when you combine DTG or Roland heat press prints with embroidery. We can apply a colorful graphic, like the classic car scene we recently created just for the Long Beach trade show, to a tote bag. Then, using the laser alignment tool on Melco embroidery machines, we embroidered text over top of the print, creating a really nice mixed-media tote bag that would be impossible to create with embroidery alone."
Embroidery businesses and screen printers that are willing to adapt and change to meet new trends and customer requests need a variety of equipment that is production-ready. Embroidery machines, direct-to-garment printers, and vinyl print/cut machines have a place in any shop, large or small. Melco has been a reliable source of the highest quality embroidery technology for several decades, and now you can count on them to help meet your t-shirt printing needs as well. For more information, visit their website, http://www.melco.com, or call 800-799-8313.