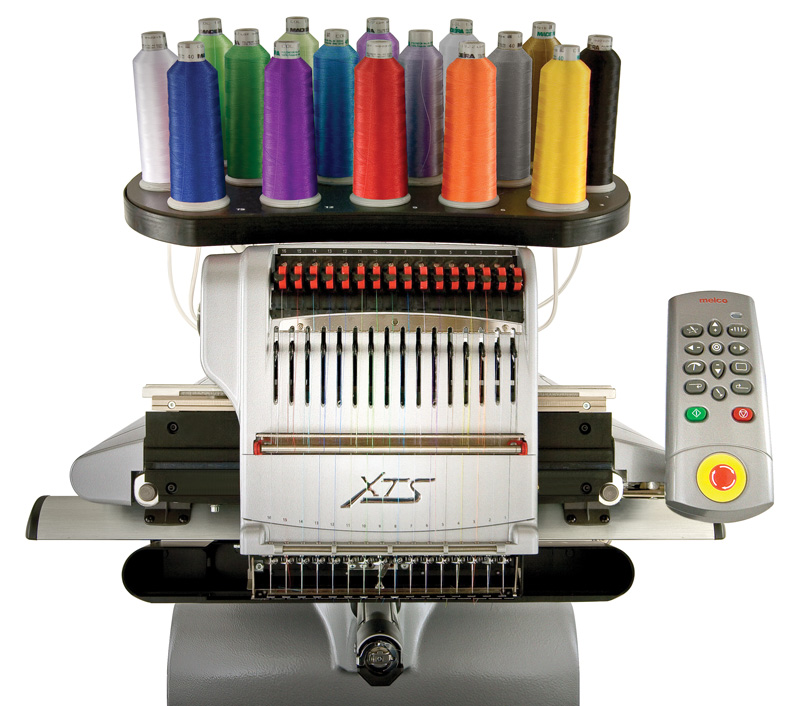 Melco Announces New AMAYA XTS Embroidery Machine
Melissa Swanson of Cool Custom Stitches had this to say about working with Melco; "After all the hands on experience these guys have provided me with, I really feel very well equipped to grow my business now."
Here are a couple of reasons why embroidery business owners like AMAYA XTS:
1. Start with a single-head machine, and add more heads as business grows to create a multi-head high output commercial operation.
2. Acti-Feed technology enables higher production capabilities that no other machine can offer, and is very user friendly.
AMAYA machines are controlled on a simple computer network with AMAYA OS software. Each embroidery machine can be programmed to run individually, or as a multi-head unit. If one head must be paused or stops for any reason, the other heads will continue to operate, unaffected by the head that is shut down. This increases production efficiency.
The AMAYA OS also controls the patented Acti-Feed thread system, meaning manually adjusted thread tension is a thing of the past.
Here's how it works.
Using material and thread information entered by the operator, AMAYA OS controls and adjusts thread tensions automatically. This results in greater efficiency and more production from the machine.
But that's not all.
The patented Acti-Feed system includes Thread Break Recovery (TBR). In the event that a thread break does occur, the machine can be programmed to switch to a backup needle of the same color and continue to sew.
Acti-Feed thread technology represents the greatest advancement in commercial embroidery technology in decades. Automatic thread tension combined with the TBR system means less machine down-time, leading to greater profit margins for any embroidery business.
New for 2012–Improved Wide Angle Cap Frame Driver and Utility Cart.
AMAYA XTS machines use a cap frame and driver system to sew on hats. The wide angle cap frame driver has been redesigned with a strengthened rail that is quieter and will not dislodge from the cylinder. A new quick release mechanism makes the driver more user-friendly. Support wings have been added to improve stabilization over a wider variety of structured caps. The new driver stands out with a shimmering red finish.
Each AMAYA XTS embroidery machine sits on a mobile utility cart. From top to bottom, this all-new utility cart is designed with stability and operator needs in mind. The cart is five inches taller than the previous version. A higher platform makes changing needles and working with the machine much more comfortable.
Stay mobile with Industrial-strength castors. Moving the AMAYA XTS from one place to another a breeze. When the machine is in position, lockable wheels provide additional stability. Pegboard hooks can be easily installed on both sides of the cart for convenient storage of hoops, thread spools and other accessories.
A handy utility tray is a new optional feature. It easily mounts to the front of the cart, providing quick access to frequently used items. Crafted from metal and engineered for greater stability, this cart is ready to handle high output embroidery production.
To learn more about AMAYA XTS technology, please visit http://www.melco.com
About Melco
Melco is the only company that engineers and manufactures embroidery machines and software in the United States. Since 1972, Melco has been the industry leader of complete embroidery systems for the home-based and commercial markets. In addition to the modular AMAYA XTS embroidery machine, Melco offers DesignShop V9 digitizing software, embroidery machine components, technical support, training and leasing for embroidery businesses.